We would love for you to join us in a release week event for
UNTIL THE END by New York Times, USA Today, and Wall Street Journal bestselling author Abbi Glines from
October 28-November 4, 2014!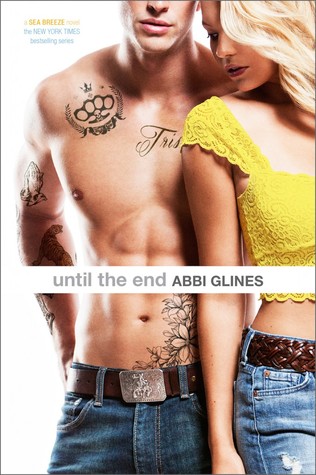 Title: Until The End (Sea Breeze #9)
Author: Abbi Glines
Publisher: Simon Pulse (October 28, 2014)


Amazon:
http://tinyurl.com/ozo9663
iTunes:
http://tinyurl.com/kz5qzhz
Kobo:
http://tinyurl.com/l7kosnv
BN:
http://tinyurl.com/nmgprfq
The backstory that fans have been clamoring for—how Rock and Trisha fell in love—is the final installment in the Sea Breeze series from New York Times bestselling author Abbi Glines. And don't miss the sizzling Epilogue, where Abbi wraps up all the Sea Breeze couples' stories!
Trisha Corbin always knew how to hide a bruise. With her momma's boyfriends unable to keep their hands off of her, she had no choice. And as long as it meant the guys wouldn't go near her little brother, Krit, it was worth it. But her days of dreaming that Prince Charming would ever come rescue her are far, far in the past.
Rock Taylor always had a plan. Through football, he would rise above the life he was born into. A full ride to play for a major college team was within his reach—assuming he didn't let anything get in his way. But scoring a date with the hottest girl in Sea Breeze was proving harder than expected. Trisha Corbin was every man's walking fantasy, and she wouldn't even glance his way.
When Rock finally does get Trisha in his truck, it isn't for a date. It's because he picks her up on the side of the road, beaten and bruised and walking to the local hospital. Before Rock knows it, football is no longer his life. Trisha Corbin is. And he'll do anything to save her. And keep her.
In addition to Rock and Trisha's love story, this special novel contains the wrap-up stories of all your favorite Sea Breeze couples: Sadie and Jax, Marcus and Low, Cage and Eva, Preston and Amanda, Jess and Jason, Krit and Blythe, and Dewayne and Sienna.
Excerpt 4-Rock, The Past
I had tried words with her. I had tried actions. I had tried everything to get her to realize that I wanted her. That I wanted to be near her. That I wanted her to be mine.
She was making me lose my mind.
I stalked toward her and she backed up against the wall as she watched me, wide eyed and confused.
Dammit she was too sexy to be fucking cute too. That was shit guys couldn't shake off. Girls like her weren't supposed to exist. They made men weak. She had me so fucking tangled in knots it was painful.
I placed my palms on the brick wall on either side of her head and stopped only an inch from our bodies touching. "What do I have to do to get you to get this? What, Trisha? Fuck, you're all I can think about," I said softly as my gaze dropped from her eyes to those plump lips I played with in my fantasies.
The tip of her pink tongue wet her bottom lip and I was lost.
My mouth covered hers and the small gasp that broke from her lips was the only chance I needed to slide my tongue onto the sweet heat of hers. I had kissed a lot of girls. But never had I felt like my world was being completely rocked.
Trisha's hands slipped over my shoulders and she held onto me. And that was fucking perfect. She wasn't pushing me away. She was holding on to the ride and, damn, it was one hell of a ride.
The softness of her lips moved under mine and then she began to join in on the kiss. It took all my willpower to keep from pressing her against the wall. I had to be careful with her ribs. But I wanted my hands on her. I wanted to get lost in how wonderful she felt.
When she leaned into me and whimpered I broke the kiss and moved back instantly. "Are you okay?" I asked, looking down at her ribs.
She didn't respond, and panic that I'd hurt her started to grip me. I found her eyes and saw the same arousal in them that I had been feeling until that whimper had scared me.
I started to lower my mouth again, needing to taste her more.
"No, wait," she breathed, pressing both her hands on my chest this time.
"Did I hurt you?" I asked her.
She shook her head. "No, it's just. I… we shouldn't… why did you do that?"
I closed my eyes and forced myself to be patient with her. Trisha had her issues and trust was one of them.
"Because I'm crazy about you. Because your lips are the prettiest damn lips I've ever seen. Because you think you're a burden to me when I just want to keep you close to me all the time. Because you are making me lose my mind. Because I don't want to be your friend, Trisha. I want to be yours."
Her mouth fell slightly open as her blue eyes stared up at me in surprise. How did she not already know all this? It wasn't like I was being subtle.
"You're… you're crazy about me?" she asked.
I held back a laugh. "Yeah, and everyone seems to see it but you."
GIVEAWAY
a Rafflecopter giveaway
About the Author:
New York Times, Wall Street Journal, and USA Today bestselling author of TWISTED PERFECTION, FALLEN TOO FAR, NEVER TOO FAR, JUST FOR NOW, WHILE IT LASTS, BECAUSE OF LOW, BREATHE, THE VINCENT BOYS, THE VINCENT BROTHERS, THE EXISTENCE TRILOGY.